Wilderness Wellness Seminars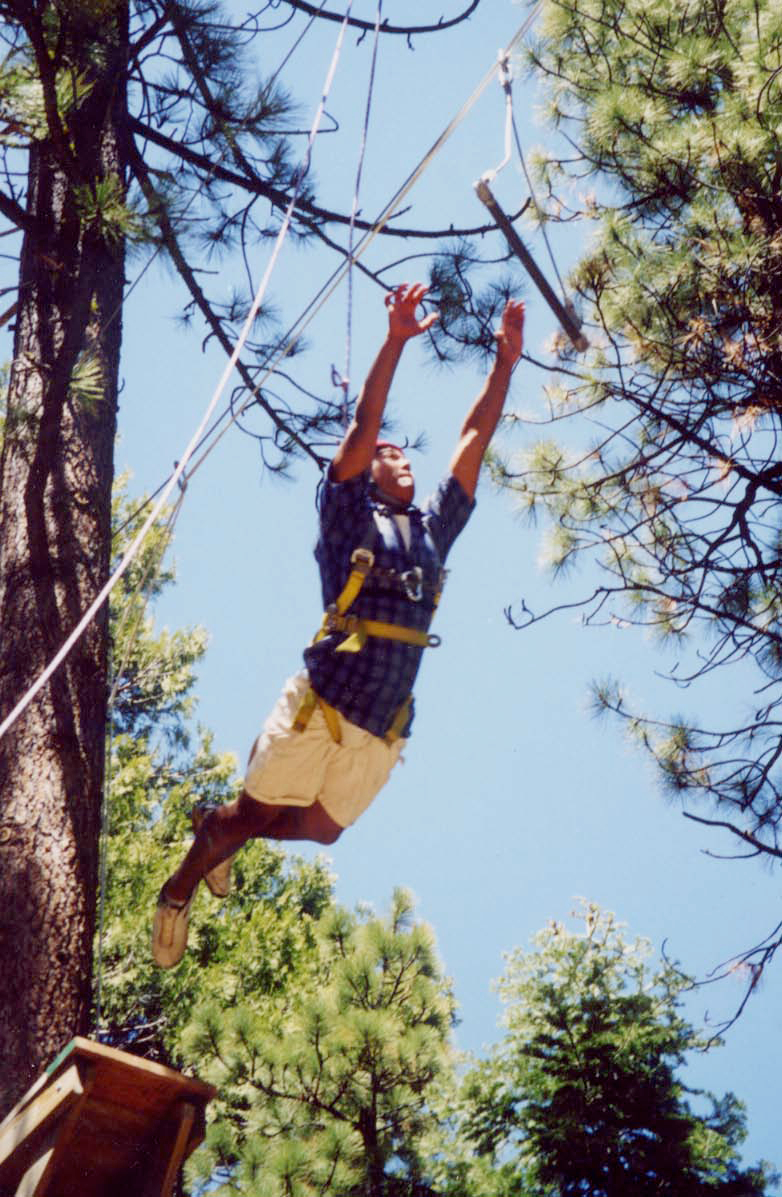 Wilderness Wellness!
Effective Communication, Diversity Awareness, Conflict Resolution, Stress Management, Enhanced Trust, and Empowerment!

Through a series of adventurous and challenging outdoor activities, like Challenge Ropes Courses, Rock Climbing and Wilderness Adventures, you and your group will learn valuable leadership and teamwork skills that will take your organization to new levels of success.

• Challenge Ropes Courses
• Multi-Sport Outdoor Adventures
• Rock Climbing and Rappelling
• Find the Gold!- Fun Pioneer Skills
• Chili Cook-Offs and Western Games
• Get on Target- Zen Archery
• Mindfulness Fly Fishing
• Customized indoor seminars designed to meet your needs
• Wilderness Wellness activities that integrate the Body, Mind, and Spirit

Our holistic learning process helps groups to access their right-brain for creative problem solving, utilize their analytical left-brain for decisive decision making, complete physical movement activities which stimulates sensory integration, and lead from the heart in building effective team relationships.

New Leadership & Management Skills
• Teamwork, Motivation & Cooperation
• Increased Self Esteem & Confidence
• Problem Solving & Intuitive Insights
• Effective Techniques to Increase Creativity
• Powerful Personality Traits that Inspire Trust

We coach our clients in empowerment and team performance skills focusing on passion, purpose, and meaning utilizing activities that integrate the body, mind, and spirit to help you achieve your goals. Outcomes are then transferred back to work and personal life.

Other Programs Offered include:
♦ Orienteering- Cross-country navigation with map and compass
♦ Eco-Challenge Games- Leadership trek using task cards and natural obstacles
♦ Wilderness Skills- Collaborative challenge activities and skill building
♦ Mobile Rock Climbing Wall- Can travel to different sites for group challenge events
♦ Snowshoe Challenge- Travel on the snow to work together to solve team challenges
♦ Crisis Response Emergency Training- Business continuity planning, intervention training, and response scenarios
♦ Team-Events with a Purpose- helping others through collaboration and team effort in support of community charities
♦ Corporate Picnics and Event Packages!

Typical High Performance Team Outcomes:
♦ Higher levels of trust and confidence
♦ Participative leadership- empowered and empowering others
♦ Team bonding- a higher sense of unity within the group
♦ Enhanced communication skills- open and clear
♦ A deeper sense of purpose- motivated and passionately inspired
♦ Mutual accountability- promotes personal relationships and respect for individuals
♦ Innovative decision making- team approach to creativity in problem solving
♦ Aligned on purpose- common shared purpose and clear shared vision
♦ Task focused- individual accountability and ownership
♦ Conflicts managed well- freedom to express ideas and share opinions
♦ Responsive- partner with other teams, flexible, and focused on the customer

Challenge Ropes Course
The Challenge Ropes Course experience emphasizes the value of appropriate risk-taking, focus, and team support to create outstanding results. The activities allow participants to expand their comfort zones and acknowledge fears that may limit personal success. There is opportunity for each participant to play a role in each activity gaining valuable life skills and personal insights in dealing with change, stress management, personal growth, and enhanced relationships.

The high ropes course rises up to 40 feet off the ground in towering pines and cedars, providing a physical and emotional challenge. Instructors and fellow teammates provide support for each harnessed climber to experience the value of appropriate risk taking in a safe environment. The climbers and the ground team learn what is possible when courage overcomes fear and trust, support, and effective communication create high performance teamwork. Our "challenge by choice" philosophy supports each person to select the appropriate level of participation to stay involved in the program, engaged with their team, and consistent with their personal values.

FreeWheeling
Your company can also increase its team effectiveness while contributing to our Veterans Outreach Program by participating in our special "Team-Events with a Purpose" program! The FreeWheeling program gives teams an insightful learning opportunity in overcoming life's obstacles while helping others through collaboration and team effort in support of disabled military Veterans. FreeWheeling is an experiential wheelchair donation, team-building, and fund development program designed to promote community collaboration, event sponsorship, and open participation for all while raising support for disabled Veterans and their families.

Partial List of our Clients
Technology:
BitsBox
Diceon Electronics
Epson of America
FutureNet
GTE of California
Micom, Inc.
Microsoft Corporation
Nextel, Inc.
NMB Technologies
Novell, Inc.
PageMaker
Twitter
Xircom, Inc.
Zip Technologies

Education:
CSU- San Bernardino
CSU- Northridge
Cypress College
Indiana University Management School
Los Angeles County Office of Education
Live Oak Waldorf
Loyola Marymount University, Executive MBA
Mountains Education
Pepperdine University
Pitzer College
Pomona College
UC-Hayward
UC-Irvine
UCLA (BAER program)
USC University- MBA
USC University- Operations and Maintenance
University of Pacific
Wyatt Academy

Finance:
ARCS Mortgage
California Federal Bank
Federal Credit Union
First Tech
Pulte Homes, Inc.
Security Pacific
Sun America Financial

Health:
Amgen, Inc.
Calabasas Hospital
Cal Lutheran Homes
Charter Hospital
Encino Medical Center
Guide Dogs of America
Kaiser Permanente
Ocean Park Center
Oticon
PacifiCare, Inc.
Palmdale Medical Ctr.
Secure Horizons
St. John's Hospital
St. Joseph's Hospital

Manufacturing:
CCP Wind
Chevrolet Motor Division
Dole Foods, Inc.
Eli Lilly, Inc.
Exxon Mobile U.S.A.
Federal Mogul Corp.
Hills Pet Products
Hughes Aircraft
Ready-Pak
Northrup/Grumman
McCarthy Construction

Government:
California State Parks
Conejo Rec & Park
City of Agoura Hills
City of Beverly Hills
City of Los Angeles
City of Palos Verdes
City of Ventura
LA County Sheriffs Dept.
National Park Service:
Santa Monica Mountains NRA
Channel Islands National Park
Santa Monica Mountains Conservancy
Tahoe Resource Conservation District
US Treasury Dept. (IRS)

And…..
AECOM
Align Technologies
American President's Line (APL)
Capital Relations
Eclectic Communications
EDAW
Lantana Consulting
Larson Corporation
Maloof Sports
Miller-Coors
Senn-Delaney Company
Silver & Freedman Law
Southland Corporation
Trailer Life Publishing
United Parcel Service
Ventura Consulting
Young Presidents Assn.