Please join us on Saturday, November 14, at the FREE "Wheel to the Sea" event,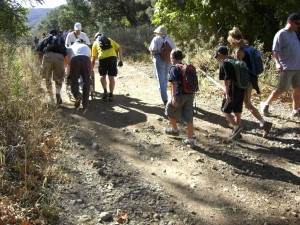 a challenge hike for wheel chair participants and volunteer pushers!
EVENT NAME: Wheel to the Sea
DATE: Saturday, November 14, 2015
TIME: 8AM to 6:30PM
LOCATION: Santa Monica Mountains NRA    (Rancho Sierra Vista to Sycamore Cove State Beach within Point Mugu State Park)
EVENT SPONSORS NEEDED! Please contact us if your business or organization would like to join us as a financial sponsor!
Pre-registration required. Visit our event registration web site to sign up and see past photos at: www.Meetup.com/Wilderness-Adventures
This exciting outdoor event is especially designed to introduce individuals in wheelchairs to the natural environment by traveling dirt trails along Sycamore Canyon stream, including 11 stream crossings, through a designated wilderness area. The naturalist led hike is approximately 5 miles long and begins in the local Santa Monica Mountains and gradually descends to the ocean where we culminate the event with a family style barbecue on the beach. Each participant is paired with volunteers to assist as needed. Participants with physical disabilities and volunteers are invited to join us for this FREE special program. Transportation will be provided from locations in both Woodland Hills and Newbury Park.