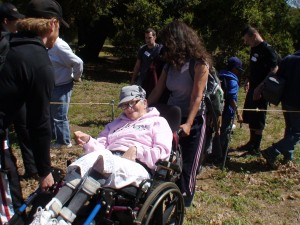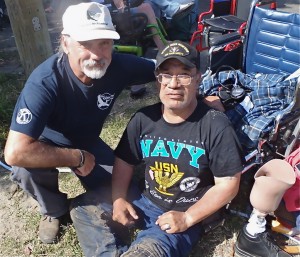 Join us for the Wheel to the Sea event!
"A Challenge Hike for Military Veterans, Wheelchair Users and Volunteer Pushers!"
EVENT NAME: Wheel to the Sea
DATE: Saturday, November 5, 2012
TIME: 8AM to 6PM
LOCATION: Santa Monica Mountains NRA (Rancho Sierra Vista
to Sycamore Cove State Beach within Point Mugu State Park)
Pre-registration required!
This exciting community event is especially designed to serve individuals in wheelchairs, including Iraq , Afghanistan and other military Veterans (and their families). Non-wheelchair users with minor Traumatic Brain Injury, PTSD, blindness, deafness or debilitating illnesses are also welcome to push a wheelchair or join in the event.
Fueled with a hearty breakfast, we embark on this five mile naturalist lead hike through Point Mugu State Park. The trail includes rocky terrain, slopes and mud or stream crossings in times of wet weather. These natural obstacles provide challenges and opportunities for team-work and trust building . The event culminates at the beach with a family style barbeque and use of specialized beach wheelchairs.
All who participate will benefit from the physical challenge, social interaction and camaraderie offered from this unique outdoor adventure!
Transportation to and from the event will be provided from locations in both Woodland Hills and Newbury Park.
"Wheel to the Sea Rocks (and Rolls)!"
"This event is an extremely rewarding, inspiring and therapeutic experience. Giving to another person, allowing each of us to go beyond our individual limitations, and reconnecting with nature has empowered me physically, emotionally and spiritually."
Michael Tardif, Veteran volunteer and naturalist
Event Partners:
California Department of Parks and Recreation
Mountains Recreation and Conservancy Authority
Mountain Bike Unit
California Highway Patrol (PCH Crossing/Safety)
Kiwanis Club of Thousand Oaks
Kiwanis Club of Canoga Park
Kiwanis Club of Northridge
FINANCIAL SPONSORS:
Kiwanis Club of Thousand Oaks
Natural Path Network
Ruth and David Henke
The Childs Fund
Community/Individual Donations
EVENT SPONSORS NEEDED! Please contact us if your business or organization would like to join us as a financial sponsor!
Visit our event registration web site to see past photos at:
www.Meetup.com/Wilderness-Adventures